Our steam cleaning are safety to use on a wide range of surfaces including ceramic tile, granite, waterproof wood flooring, glass, laminate tiles, most cotton and wool carpets, and washable wallpaper.
About this item
· All Natural Steam Cleaning: After connecting the power supply, the steam cleaner will be ready only in 3 minutes with 1050 W of power. MAURI pressurized powerful hot steam (250-270 F) for up to 15-20 minutes! Your family including your pets is fully protected.
· Easy Handheld Use: This handled steam cleaner is easy to carry from one place to another place with lightweight and portable body. And portable unit comes with a long 9. 8-foot cord for convenient indoor and outdoor use. There is a safety lock on the handle and a safety cap on the top to ensure safety when the steam is in use. Don't worry about scalding by hot liquid or steam.
· Multi-functional Steam Cleaner: High temperature steam cleaner can meet your everyday domestic cleaning needs. It is ideal to clean sinks, stoves, counter tops, refrigerators, windows, toilet, tiles, shower curtains, pet toilet, cat litter boxes, car seats & rims, grill, BBQ, toys, mattresses, linen, duvet cover and fabric clothing in various scenes.
· 9 Piece Accessory Set: Includes: extended nozzle, Spray Cup with Brush, Bent Spray, Funnel, Measuring Cup, Spray Cup for Door and window, towel Sleeve, Brush Plate, Long Spray Cup. Imported premium quality components Deep clean the hard-to-reach areas of your home using the heavy-duty attachments for more targeted cleaning.
· New Upgrade: This product is the latest model with a capacity of up to 400 ml. Say goodbye to small capacity and refuse to add water many times!
Product description
Are you looking for a cleaner that is handheld to use for multiple surface?
Our chemical-free steam cleaner with 9-piece accessories is a good choice for you.
The temperature of the steam can reach to 284°F for clearing away the dirt on the floor, doors, windows, clothes and auto.
When it comes to safety, this steam cleaner has three considerate design to ensure safety.
There is also a safety lock on the handle to ensure safety when the steam cleaner is in use.
Use this steam cleaner for all your cleaning jobs.
It will be a good helper for your daily household cleaning.
Fast Guide It is normal if there are water residues in the product as each device has been tested with water before shipping.
9PCS Accessories
1 × measuring cup
1 × funnel
1 × window cleaning tool
1 × round nylon brush
1 × upholstery tool
1 × towel cloth
1 × Jet nozzle
1 × bent nozzle
1 ×100cm Flexible Hose with Gun Nozzle
Type:Handheld Steam Pressure: 2.8-3.2 bar
Brand name: OEM Capacity: 250 ml
Model Number: JQ388 Tank company:250-350 ml
Material:Nylon Material Working time:15-25 minutes
Certification:CE, ETL,GS, ROHS Heating time:1-3 minutes
Place of origin: Zhejiang,China(Mainland) Overall dimension:285*145*225 mm
Color:Selected Power cord: 3 m(Total Length)
Power: 1000 W
Voltage: 220 v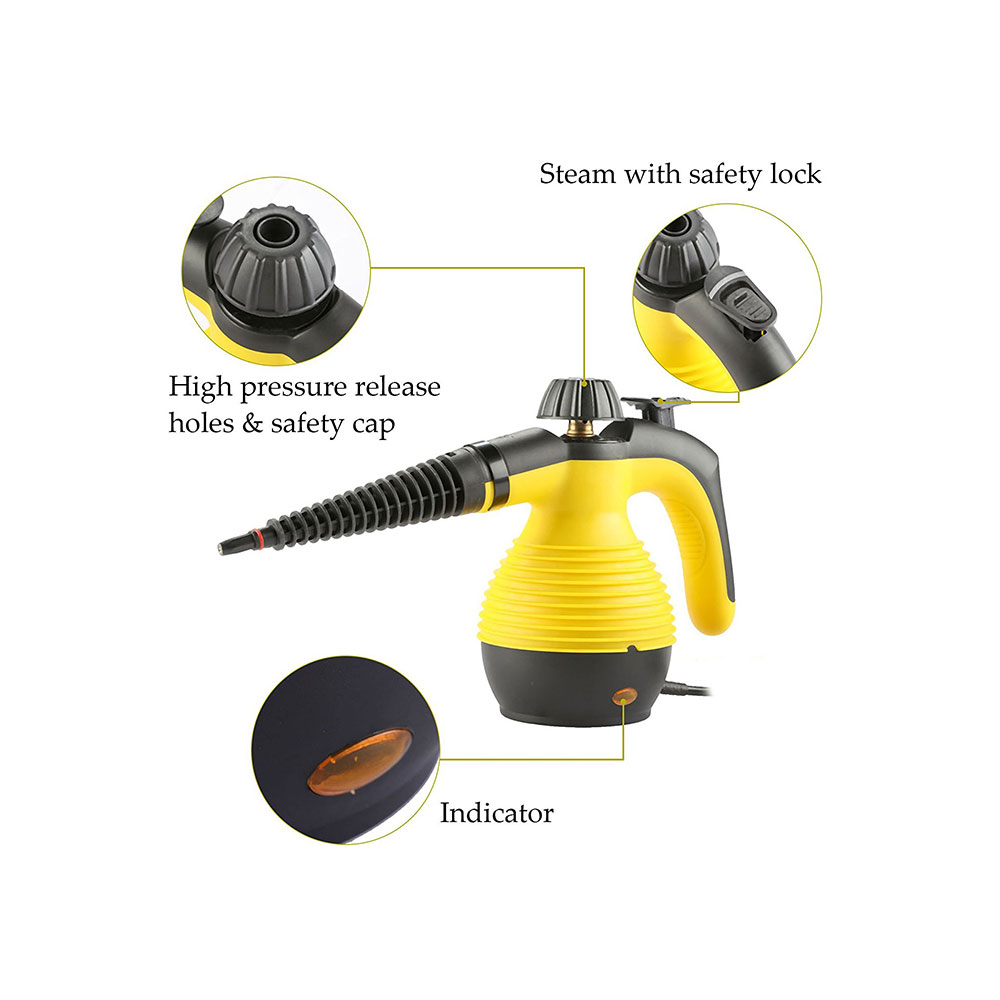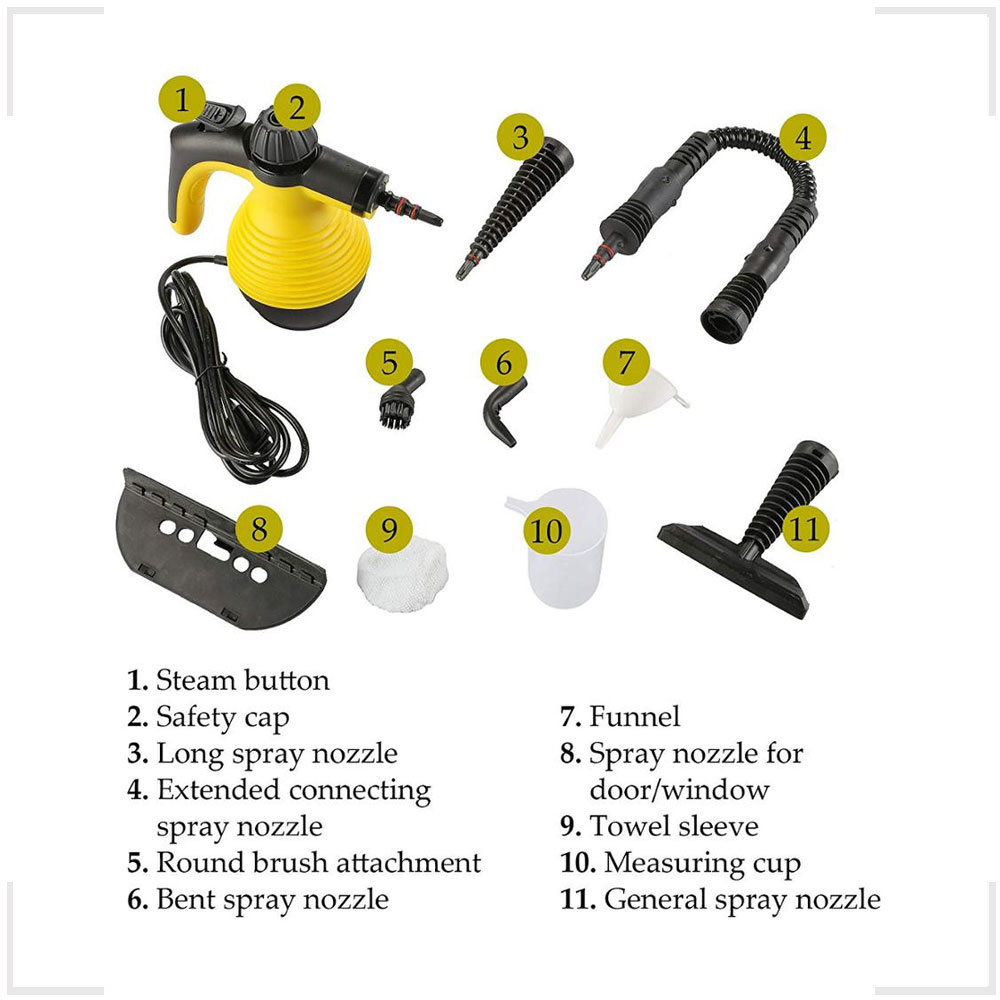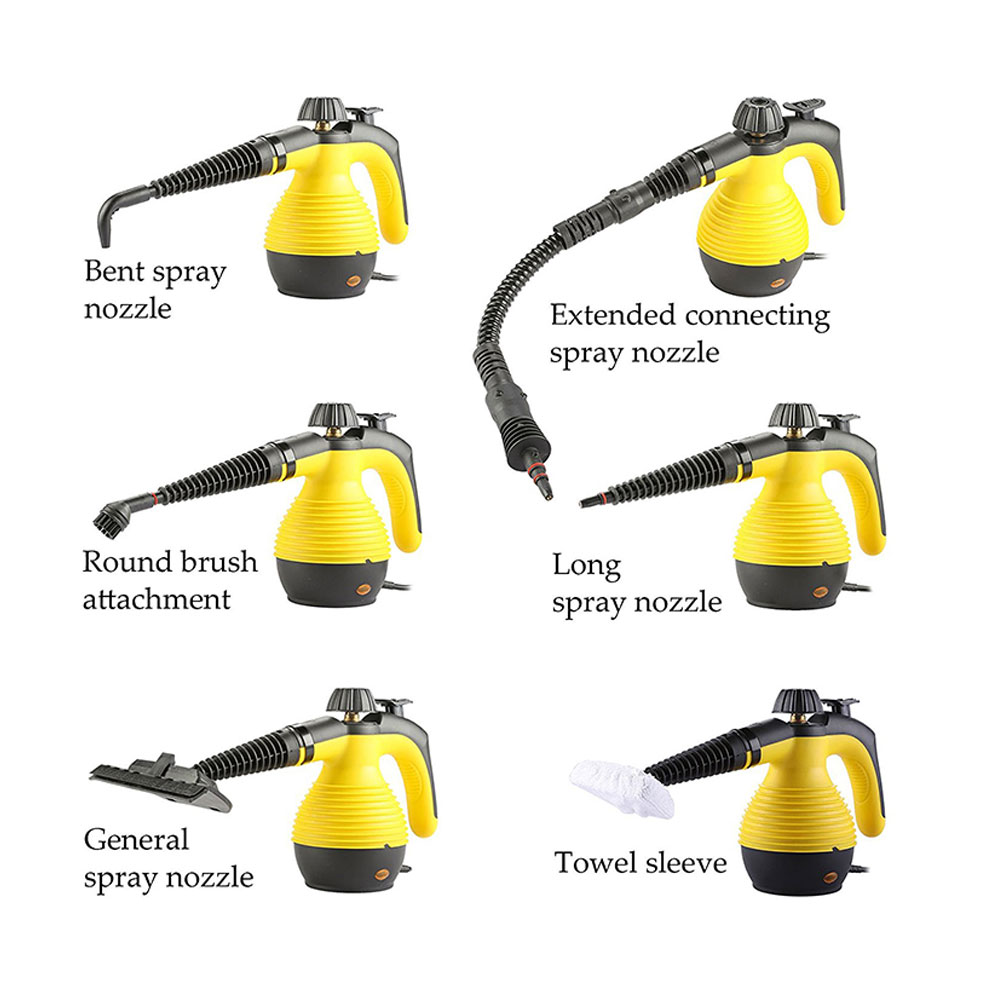 How to use?
· Step 1: Unscrew the safety cap counterclockwise. Add no more than 250ml water with the measuring cup and funnel, then firmly screw the safety cap back on;
· Step 2: Choose and firmly screw the most suitable accessories for different materials, surfaces, angles, gaps and corners.
· Step 3: Plug in the power cord, the yellow power light at the bottom will turn on indicating that the steamer is heating up (The heating time is about 2 minutes and 30 seconds ); When the yellow light turns off and green light turns on, it means heating finished and it's ready for use.
· Step 4: When green light turns on, press the lock from right to left, then press down the steam button and do the cleaning.
(Dear, please keep the steam cleaner connected to power supplies during use)
Tips About Adding Water:
1. After using, please unplug the power cord first, wait for about 3-5minutes to let it cool down until the red spot in the middle of the safety cap(lid) sinks down, then you can open it(Tips: Discharging the residual steam after use by long holding the steam button will speed up the cooling process).
2. Then screw off the safety cap(Open the safety cap only in case that power is cut down and steam inside cools down to avoid scald).
3. Add no more than 250ml of water, so as to lMAURI a certain space to produce steam for better cleaning effect.
4. Please do not directly contact the steam, it' high temp and hot.
Fast & Effective Steam Cleaning Tips:
· Spray first to melt off the stains, and then brush them off with great ease.
· Aim the steam cleaner at the stains as close as possible for better cleaning effect.
We have Mini fridge, skincare fridge, Mini Fridge Heater, etc.